A geographical indication (GI) is a name or sign used on products which corresponds to a specific geographical location or origin (e.g. a town, region, or country). The use of a geographical indication may act as a certification that the product possesses certain qualities, is made according to traditional methods, or enjoys a certain reputation, due to its geographical origin.
Geographical indications are generally traditional products, produced by rural communities over generations, that have gained a reputation on the markets for their specific qualities. The recognition and protection on the markets of the names of these products allows the community of producers to invest in maintaining the specific qualities of the product on which the reputation is built. It may also allow them to invest together in promoting the reputation of the product.
A visual inspection doesn't reveal many differences, but there are huge differences — and they have a direct impact on your health and the planet. Unlike natural and other eco-label claims, only organic offers government-backed assurance that products are grown and processed without the use of toxic chemicals, antibiotics, and synthetic growth hormones.
Additionally, when you buy Originals from Indian GI, you help source the products directly from the farmers to your doorstep, thus contributing in overall community growth and sustainable development.
Buying local and organic produce has more benefits than you think. Benefits include those on individual health, environment and the nations as a whole. Here is a quick snapshot about why you should choose organic.

Support good health for yourself and your family

Get a shield from Cancers and congenital disorders
Help keep our Oceans, Lakes and Rivers Clean

Help reduce income disparity and make farming profitable again

Contribute in Urban and Rural equality by distributing wealth

Support local biodiversity and fight climate change
Mr. Rashid (Vishal) Mohan Gavit
I come from a poor Adivasi Family. My father admitted me to a Zilla Parishad School and my educational journey started there on. My parents used to do traditional Farming and due to their hard work and immense support, I could study till Graduation. I chose Farming as my career with the aim of using materials with Advanced technology that would be beneficial for farming.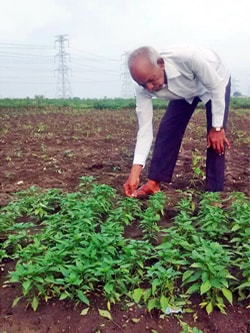 I was born in a small village in Maharashtra. My parents were in to farming and financial status of the family was very low. I completed my Medical degree and started working on our small farm along with my Medical Business.
Subscribe now and get special offers